168th Spencerville Fair - This event has already occurred
Upcoming Dates:
Sunday, September 10, 2023 8:00 am - 5:00 pm
Event Details:
Thursday, September 7th – Sunday, September 10th, 2023
THE 168TH SPENCERVILLE FAIR
The Spencerville Agricultural Society is very excited to bring you this year's fair, which will host new experiences, new attractions, and the same family-fun that you've all come to know and love.
Come check out and participate in your fair favourites, including our Baby Show, Pet Show, Livestock Show, Royalty Show, as well as all of our exhibit building competitions, with tens of thousands of dollars in prize money to be won! For details about all of our shows and exhibits, please see our 2023 Fair Book online.
This year, in addition to our classic attractions, including our Touch a Truck, Parade, Demolition Derby, Midway, and Vendor Show, you can also expect some changes that we know will bring even more fun to our fair:
Due to high demand, our Truck Pulls and Tractor Pulls will be separated, with Truck Pulls appearing on Friday night and Tractor Pulls on Saturday.
Our Purebred Beef and Cattle Show has been moved to Sunday at noon, and now includes a simmental class as a point show for the Ottawa Valley Simmental Association.
The Barn of Learning has been relocated to our historic cattle barn, and will be host to this year's Famer's Olympics, happening all weekend long.
FREE admission to the entertainment arena with your fair ticket on Thursday, Friday, and Sunday of the fair.
Revamped exhibit building classes to bring you more variety to look forward to.
New to this year's fair, we are excited to announce the following:
Entertainment on every night of our 4-day fair, including, for the first time ever, an Open Mic Night on Thursday, September 7th.
On Friday night, we will be opening our new Trackside Tavern, for spectators of legal age to enjoy a drink while they watch our Truck Pulls.
Partnered with the Spencerville Optimist Club, we will be hosting a Pancake Breakfast on Saturday, September 9th.
The Baker's Building will host our first ever Antique Showcase, which will display classic and traditional farm equipment used throughout Canadian history.
The Spencerville Fair Tasting Experience, which will showcase our brand-new Spencerville Fair Vodka!
Finally, we will also be joined for live performances by Twin Turbos, Little Bones, Amanda Keeley, Ty Wilson, Teigen Gayse, Colby Drummond, Gail Gavan, and George Fox. More announcements to follow as we work through all of the details. For updates regarding the fair, please visit our website at www.spencervillefair.ca, or find us on Instagram, Facebook, Twitter, and LinkedIn.
Come Home to Your Fair!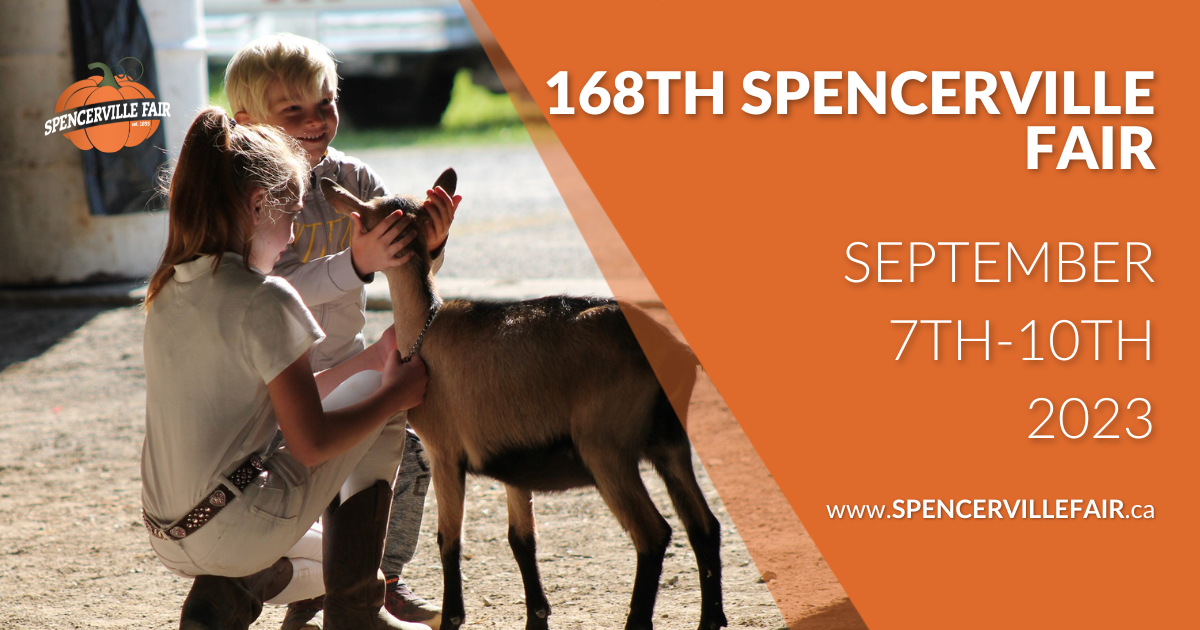 Title
Date: Date
Location: Location
Category: Category