Spencerville Fair Parade - This event has already occurred
Event Details:
Theme: "The Splendor of Fall!"
All entries must be pre-registered
Forms are available at WWW.SPENCERVILLEFAIR.CA or the Drummond Building during fair office hours
Deadline for registration is September 7th, 2023. Entries received after the deadline might not be accepted.
Insurance information and a signed hold harmless startment, which is part of the entry form, must be submitted with all entries.
The parade will line up in- an open field on Goodnin Road, two lots west of the Fairgrounds
The field will be accessible from behind the St. Laurence O'toole Catholic Church, 48 Centre St
Parking is limited in the parade assembly area..
Proceed to the designated spot for your entry in parade assembly area.
For saftey reasons, only one-way traffice will be premitted in the parade assembly area.
Children must be always supervised.
Entries must be ready for judging at 9:30 A.M.
Entries not ready on time, will not be judged.
The parade will leave parade assembly area at 10:30 A.M. sharp.
Important: Hand out items while walking along parade route.
Do Not throw anything from a moving vehicle.
Distribute candy and promotional material with saftey in mind.
Businesses are limited to two entries with the exception of antique & classic vehicles.
Commercial vehicles must be decorated unless they are antique or classic vehicles.
Eighteen-wheelers are PROHITED.
The route is approximately 1.8 km Long. See map for details
Categories
The best representation of theme ( Prize: 1st: $100.00, 2nd: $50.00, 3rd: $25.00)
Senior individual or group (Prize: $25.00 Winner / $25.00 Breast Cancer)
Child - Costumed with or whitout pet ( Prize: Erin Lawless Meorial Trophy)
Business Floats (Not Judged)
Non-Business Floats (Not Judged)
Family Float (Not Judged)
Junior Group (Not Judged)
Antique and Classice Vehicles (Not Judged)
Dirt Bikes and ATVS (Entries Must be decorated)
Commercial Vehicles (Entries Must be decorated. Limited to one per organization).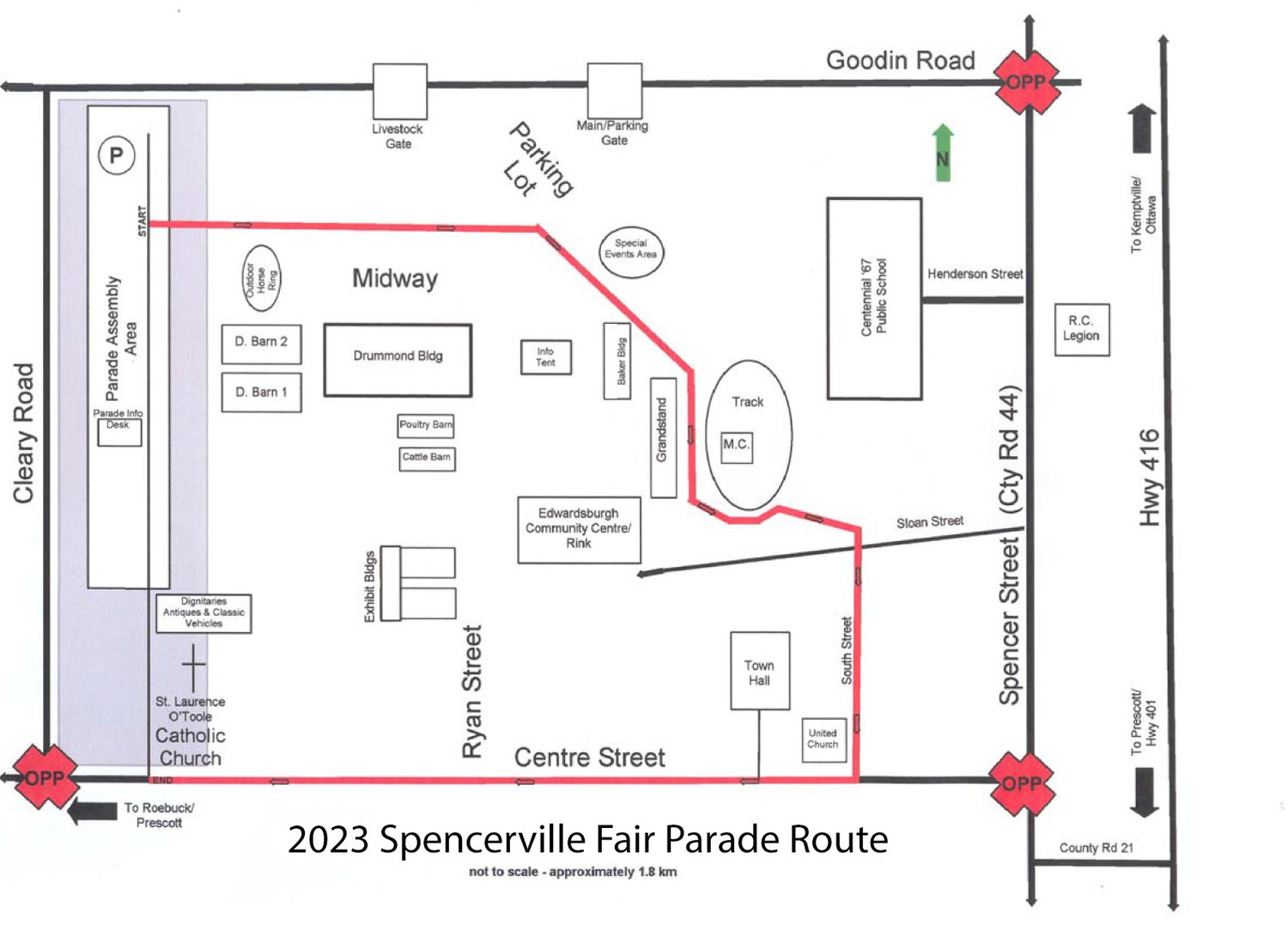 Title
Date: Date
Location: Location
Category: Category